Company
About zKorean
About zKorean
zKorean is made of people!
2 people, actually. My wife and I. We're John and Suzy. She's Korean and the resident expert in all things thereof. She did all the pronunciations on the website and the dictionary, so you're getting the real thing when you listen to the audio pronunciations.
We run zKorean from our home in the Seattle area.
Obligatory Marketing
zKorean is the perfect destination for those taking the plunge in learning the Korean language. Since 1997, thousands upon thousands of people just like you have used our introductions to the language, our bilingual dictionary, and helpful grammar lessons to get their start.
zKorean has grown over the years, and there have been many iterations, all built around the same core learning tools, always striving to provide useful, easy-to-use tools to people worldwide.
The vision for the future of zKorean is to enhance and increase the number of tools provided, at all times engaging in a conversation with our membership, and building the services that make you successful in your efforts with the Korean language.
Our goal is to help you master the Korean language. Suggestions and criticisms are always welcome, as they guide our development plans. Please send us your feedback on our contact page.
History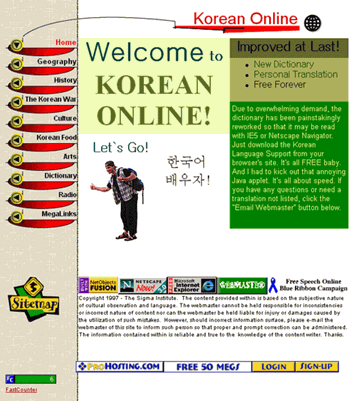 This site once took forever to download over an old modem.
This site started in 1997 as "The Korean Situation", where I copied/pasted news about the two Koreas. That lasted about 2 weeks.
Later in the year I launched it as Korean Online and posted many of the articles you see today. I soon added a dictionary to the site and it grew over the years to what it is today.
In late 2006 I rebranded as zKorean. In October 2008, I finally added premium paid-subscription services, and have been adding more all the time.